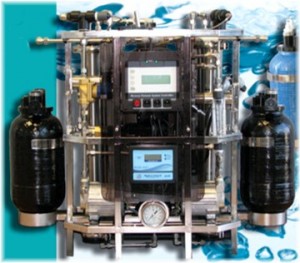 The 300XP is the Elite in laboratory point-of-use purification systems. Constructed of 316L stainless steel and fusion-welded polypropylene materials, this unit will produce up to 300 gallons per day HPLC grade water. Product water meets Type I Laboratory requirements set by ASTM CAP/NCCLS as well as exceeds USP standards.
The 300XP's compact design allows for shelf mount, wall mount or counter top placement. The 300XP comes with a 3 gallon conical polypro storage tank but can be retrofitted to any larger tank to fit your needs.
The 300XP – Higher quality production of purified water for tissue/cell culture, chromatographic procedure (HPLC), media preparation, DNA, RNase, plating and glassware rinse.