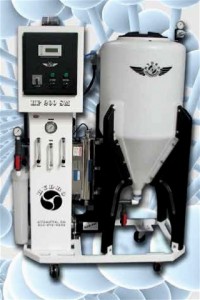 Meeting the demand of high quality, high volume purified water, in a confined environment, the HP 200 SM Central System answers the call. In its most compact design, the HP 200 SM can produce up to 9.5 liters per minute, Type I water, with a distribution system feeding multiple points-of-use, up to 26.5 liters per minute, from the 227 liter recirculating PE conical storage.
HP 200 SM can distribute Type I laboratory grade water as specied by ASTM, CAP/NCCLS and USP to various point of use within your laboratory. Systems production capacity may alsobe increased, within limitation, to meet your demand.
If you are in need of a central RO/DI System and customer satisfaction is just as important to you as it is to us, then the HP 200 SM by Hydro is the clear choice.