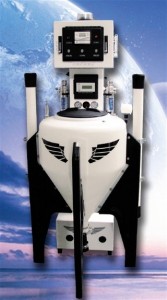 Adding a little flare to the analytical world.Jencel's MX3 is designed to meet all water specifications required for your analyzer. The cost effective MX3 has a high quality production of purified water for tissue/cell culture, chromatographic procedures (HPLC), media preparation, DNA RNase, plating, glassware rinse and blood analytical systems.
MX3 can distribute Type I laboratory grade water as specified by ASTM, CAP/NCCLS and USP to various point of use within your laboratory. Systems production capacity may also be increased, within limitation, to meet your demand.
Contact us for complete specifications.
You will be surprised by the Jencel's MX3's price, performance and low cost maintenance compared to conventional systems on the market today. Ask about the complete line of Jencel laboratory purification systems and how we can provide your lab with 0 cfu/ml bacteria counts.