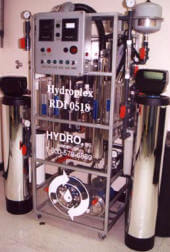 The 'HYDROPLEX R.D.I.'(manufactured by Hydro,inc.) provides Type 1 HPLC grade water at high volumes. When multiple points of use promotes the need of a central recirculating RO/DI, this is a system built to fit your application and budget. Available in PVC, Polypro, PVDF, stainless steel or a blend of the aforementioned.
Designed to meet or exceed F.D.A., N.C.C.L.S., U.S.P., A.S.T.M., E.P.S., C.A.P. and your company's requirements.
Systems available from 1-100 GPM. Minimize your service and D.I. tank exchange.Dedicated to the bio-tech,bio-med, pharmaceutical , food and beverage, electronics and kidney dialysis industries. References to satisfied customers in your field are available.